After finding out that someone has been looking at their daughter's window room while inappropriately touching himself, two parents were eager to catch the suspect that made the man be shot using.
The parents said that the man was caught looking into their underage daughter's window. Right after hearing their daughter's scream, husband and wife were alerted to the alleged peeping tom.
Both parents have licensed handgun carriers and attempted to detain him, according to the Harris County sheriff's office.
"She looks over at the window and this guy is at her window," the girl's mother, who does not want to be identified, told KPRC 2. "I can't say that he tried to take my daughter's innocence away — he took my daughter's innocence away."
"I'm literally saying you're not going anywhere," the mother said as she described how the suspected peeper was trying to get away.
Rather than comply with the parents' demands, the suspect walked across the street to a nearby gas station.
The armed parents demanded that the alleged peeping Tom lie down in the yard and wait for the police to arrive, according to the Texas dad, but rather than complying, the suspect promised not to do it again and began walking away, crossing the street to a Valero gas station. Not wanting the alleged predator to get away, the armed couple followed, and that's when things went from bad to worse.
"He is wrestling with me, with my gun, and I'm like, 'I'm not going to let you get my gun, you are not going to kill me or shoot me,'" she said. "My husband just said he heard a 'ca, ca,' but by that time the guy had already grabbed me, got my gun, and pulled it on myself."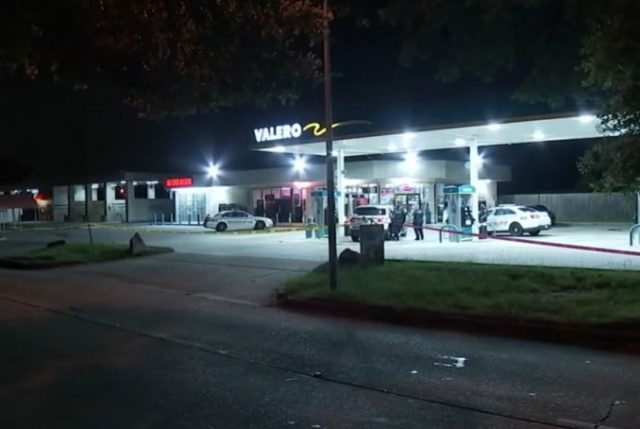 That is when the woman said her husband shot the man.
"We didn't want this guy to get shot. We were waiting for police to detain him because I'm pretty sure if he did this to my children, he's doing it to a lot of other children out here," she said. "We are praying for the suspect and we are also praying for his family."
Watch it here: KPRC 2 ClickHouston/Youtube
The man was then rushed to the hospital where he is said to be in a critical but stable condition.
The father said his daughter had previously complained that someone had been watching her through the window, but the parents didn't believe her until that fateful encounter.
He told the outlet that she had been left shaken up by the incident but was otherwise doing OK.
Sources: Taphaps, ABC13, Click 2Houston, Indy100, MSN